Welcome to Meru Teaching and Referral Hospital.
Exemplary Health Care for You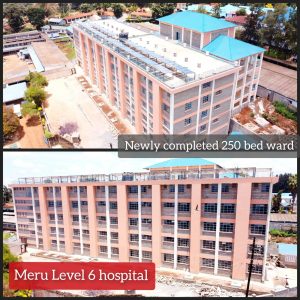 Meru Teaching and Referral Hospital (MeTRH) is located in Meru County and its  one of the Principal Health Hubs in the Eastern and North Eastern Part of Kenya.  We are a public Health care service provider, a referral health centre and a medical training and research institution offering holistic, excellent and affordable health care services to the residents of Meru county and Beyond.   The hospital offers a wide range of services that include; Outpatient, inpatient, imaging, dental, laboratory, Pharmacy, Rehabilitative, Promotive, Preventive and specialized services Such as Oncology, ICU/HDU, Renal, Dermatology, Urology, Maxillofacial surgery, endoscopic surgery among others.
In order to achieve its goals and objectives so as  to meet local, national and global health needs,  MeTRH has developed its Mission, Vision and core values as outlined herein.
A specialized referral hospital committed to excellence in innovative health care and training.
To provide client -centered innovative specialized and affordable health care; facilitate training and research; and participate in county, national and global healthcare policy formulation
Leadership & Integrity
Compassion
Professionalism & Excellence
Creativity
Teamwork & Team spirit
Responsiveness
Meet the Highest Standard of Health Care.
Develop a Culture of Excellence
Resource Sustainability
 Enhance Institutional Capacity
Strategic Partnership
Strengthening Information Management, Research, Innovation and Development
Clinic days and Schedules
Dermatology      –  8 AM
NCD                      – 8 AM
PSYCHIATRY       – 8 AM
MAXILLOFACIAL – 8 AM
SOPC                          –  8 AM
UROLOGY                   – 8 AM
NEURO SURGERY      – 8 AM
NCD                             – 8 AM
ENT                              – 7 AM
PSYCHIATRY              – 8 AM
MAXILLOFACIAL        – 8 AM
NCD                            – 8 AM
GOPC                          – 8 AM
OPTHALMOLOGY    – 8 AM
PSYCHIATRY             – 8 AM
MAXILLOFACIAL       – 8 AM
NCD                      –                  8 AM
POPC                    –                  8 AM
PSYCHIATRY      –                  8  AM
NCD                          –               8 AM
Dermatology           –               8 AM
PSYCHIATRY          –               8 AM
ORTHOPAEDIC      –                8 AM